Ruggedized Shock and Vibration resistant
Control Room Displays
The Housing
The all metal housing of our new P series bargraphs is constructed of 18 gauge, 316 "Marine Grade" stainless steel on the side walls and the rear plate which is stamped and formed. The front bezel is made from 6061-T6 aluminum, precision machined to our exacting specifications and hard anodized black per MIL-A-8625. The entire housing is then fastened together using stainless steel fasteners and aluminum spacers, avoiding welds throughout the construction.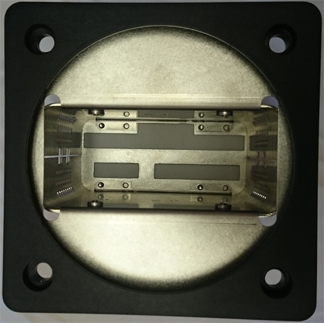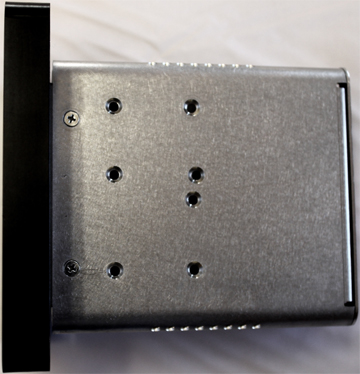 The Motherboard
The Precision Instruments proprietary motherboard design contains the isolated DC or AC power input conditioner, a single 16 bit microprocessor and the fully isolated communications circuitry. The dual RJ-45 jacks simplify network connectivity using half-duplex RS485 and the two piece pluggable power connectors are self clinching, screwed together to ensure reliability under the most demanding circumstances.
Our instruments calibration is NIST traceable to ANSI/NCSL Z540-1.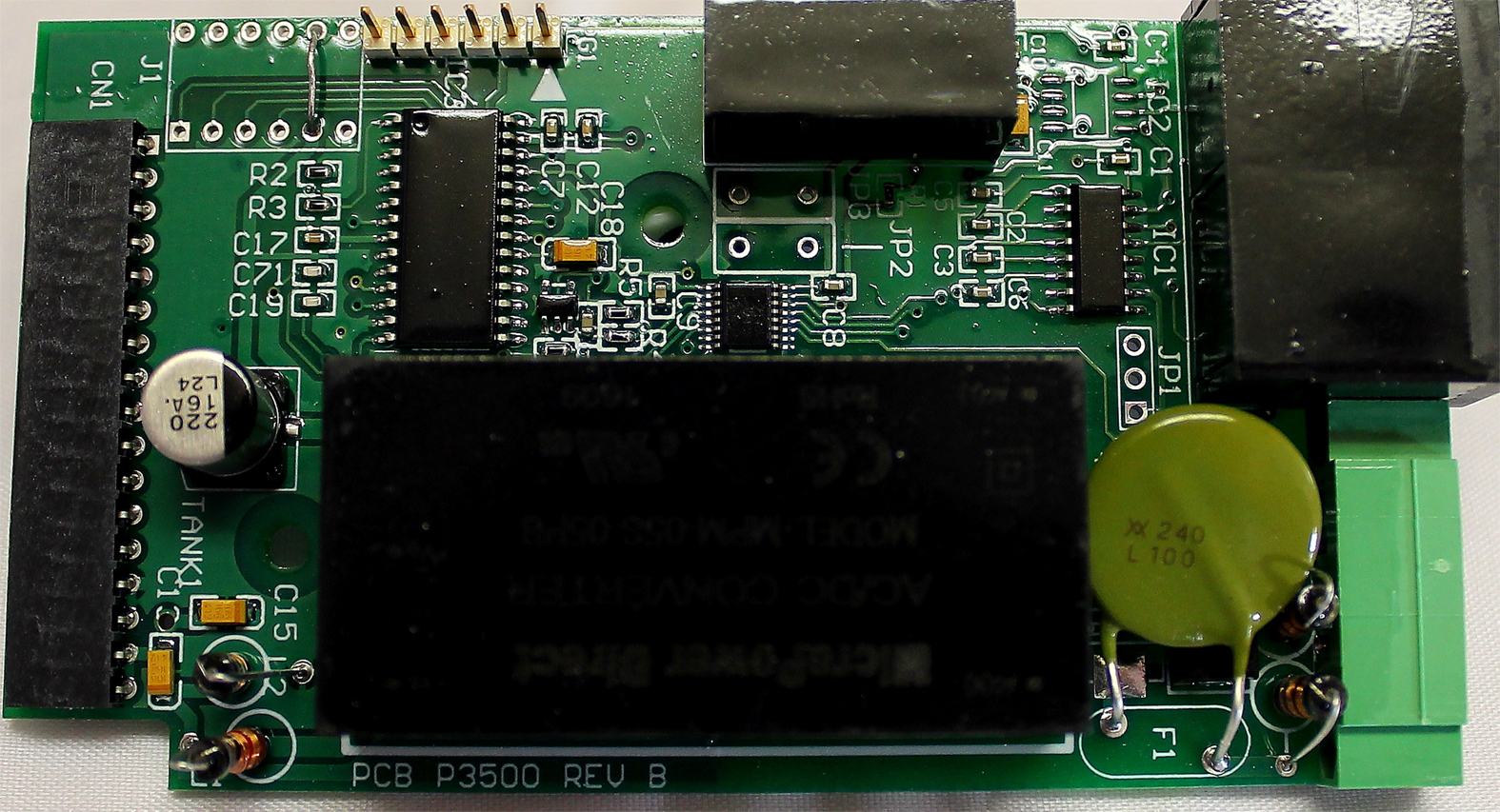 The Daughter Boards
The Precision Instruments daughter boards are all designed using state of the art components and assembled in accordance to IPC-A-610 standards.
24 bit Analog to Digital Signal Conditioner
The Precision Instruments Analog Input Signal Conditioner is a fully isolated, precision 24 bit Delta-Sigma type with an internal programmable gain amplifier. Our proprietary input filtering provides a significant amount of RF attenuation with simultaneous 50Hz and 60Hz noise rejection. The signal conditioner offers inputs for DC volts (50mV to 300V), DC milli-amps, thermocouples, RTD, resistance and Strain-Gage. Internal dip switches allow the user to configure the input attenuator as well as the excitation. Excitation is available as 5V, 10V, 12V or 24Vdc as well as several different constant current sources for RTD and low value resistance inputs. A True RMS and Frequency input version will be available soon.

16 bit Digital to Analog Output
The Precision Instruments Analog Output board is capable of sourcing either current or voltage. The 16 bit low noise, monotonic digital to analog converter can be programmed as a current output with a range of 4 mA to 20 mA, 0 mA to 20 mA, or 0 mA to 24 mAdc or as a voltage output with a range of 0 V to 5 V, 0 V to 10 V, ±5 V, or ±10 Vdc. The fully isolated analog output provides added assurance in eliminating ground loops.
5 amp Relay Output
The Precision Instruments Relay Output card has 4 independent, 5 amps relays set as Form A outputs (normally open). The software can configure them to operate as normally closed as long as power is present. Contact protection is designed in by means of a Metal Oxide Varistor and a Free Wheeling Diode across the relay coil to help suppress inductive kick-back.

MIL-PRF-28750 rated Solid State Relay board
The Precision Instruments dual output SSR card uses MIL-PRF-28750 SSR per DESC 90091-004. The specified rating is 400mA at 60VDC with the internal PPTC resettable fuse. The fuse is rated 400mA hold current with an 800mA trip current. Each SSR can be set to trip at any of the four limits by means of a mini-link jumper positioned on each side of the board.

Bargraph Display Board
The Precision Instruments tri-color LED bargraph display comes in several different sizes, each one custom designed to fit into its specific housing type.
The two circular bargraphs currently offered are the PB40 (4 1/2" Switchboard style) and the P9224 (2 1/4" Switchboard style). Both have a 101 segment, tri-color LED bargraph.
All of our edgewise style bargraphs can be supplied as either a 51 or 101 segment tri-color LED bargraph. The numeric displays are high visibility LED, available with a 4 digit (0.1%) or 5 digit (0.01%) resolution and a user programmable decimal point location.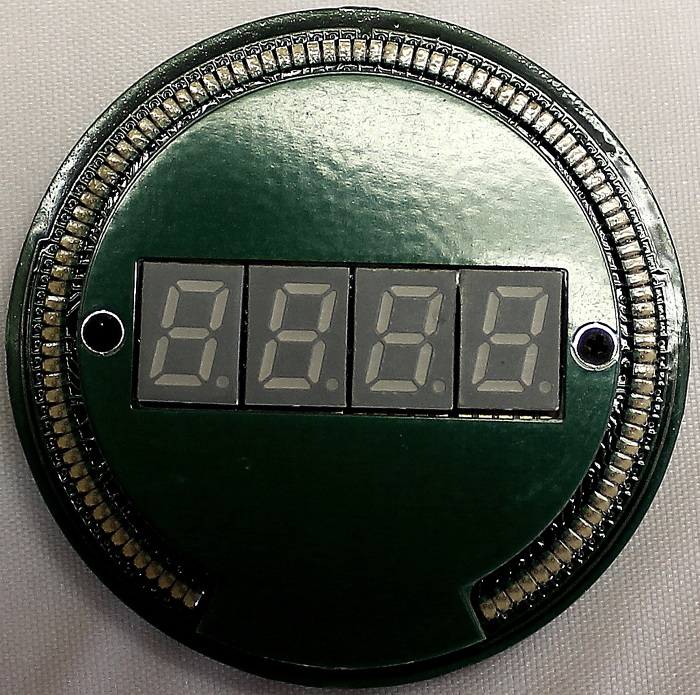 The P series of Bargraph Meters are fully programmable for color zones, color banding, color changing, resolution and other Desirable features. Its configurable design allows you to stock a single item and various different scale plates. When a unit is removed from service, simply replace it with a stocked item and upload the configuration file.
Key Benefits
| | |
| --- | --- |
| | Drop in Form and Fit replacements for various obsolete models |
| | Programmable automatic tri-color bargraphs in 51 or 101 segment versions |
| | Stainless steel housing with anodized aluminum front bezel |
| | Custom legends on scale plate available |
| | Increased accuracy and 0.01% resolution. |
| | Improved total loop uncertainty (TLU) errors |
| | Excellent visibility |
| | Optional Isolated analog retransmission (4-20mA / 0-10V) |
| | Optional 5A relay outputs |
| | Optional Isolated serial communications(RS232C / RS422 or RS485) and USB |